I'm Susan Nadathur, author of outcasts and outsiders, lover of literature, and all things young adult. I invite you to explore my world through the pages of this website. You'll find information about me, my Spanish for childbirth books and workshops, my work with young adults, my debut novel, City of Sorrows and my young adult title, Dante's Kiss. To learn more about outsiders, outcasts, and the writing life visit my blog, where I share reflections and insight.
I hope you enjoy visiting here and would love to hear your comments. Another great place to share your thoughts and stories is on my community blog Label Me Different, a special forum for any and all who have been wounded by the stigma of being labeled "different." Be sure to sign up for a chance to win a free copy of City of Sorrows in the book giveaway on the right-hand column. As an added benefit, you'll get updates about future book releases, events in your area, and my work on behalf of Puerto Rican teens and Spanish Gypsies.
 If you feel like sharing some of your world with me, please connect on this special forum for all the misfits who, like me, live in a colorfully chaotic world.
Announcing a Book Fair for Puerto Rico's Children and Teens–who have been without power (and without their electronic gadgets) for four weeks, with no relief in sight. You can make their days lighter with the gift of a book.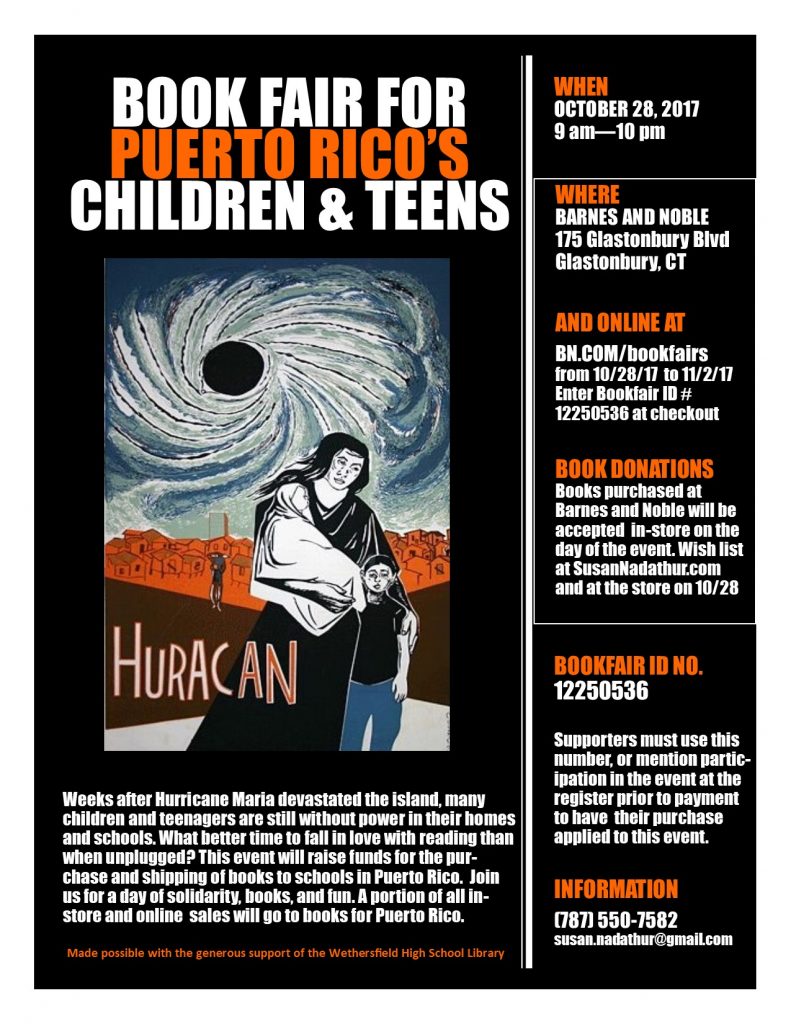 Click here for the Book Fair Wish List
Please consider visiting the Barnes & Noble website and making a purchase on behalf of the children of Puerto Rico. Click on bn.com/bookfairs to start shopping, and make sure to enter the event's bookfair ID: 12250536 on the payment page to ensure we receive credit for your purchase.
Books on the wish list may be purchased online and shipped to my temporary U.S. address: Susan Nadathur, 975 Silas Deane Highway, Apartment B-1, Wethersfield, CT 06109.
Thanks for your help! Your support is much appreciated.
DANTE'S KISS
is especially enjoyed by teens in Puerto Rico. A supernatural love story about temptation and desire, the fragility of being human, and the challenges of being young in the Hispanic Caribbean, this book was Inspired by them.
Synopsis: It's hard to be sixteen, almost anywhere, but it's even more difficult to be a sixteen-year-old-three-quarter angel when the one quarter human side kicks in. Especially when that humanity comes to life in Puerto Rico.
When Kiriela and her almost-boyfriend cause chaos in Heaven, she is forced to live in exile with her parents in Puerto Rico. But because she is not a pure angel, Kiriela's father is overprotective. Fearing that she won't be strong enough to fight against the forces of evil that follow their family, Kiriela's father keeps her in a protective bubble. But when they move to Puerto Rico, he loses control over her. Finding her feuding parents too occupied with their own problems to deal with hers, Kiriela slips out from under her father's radar and finds the freedom she craves.
But what Kiriela does not understand when she falls for a human boy named Dante is that when the supernatural collides with the natural world, something as simple as a kiss is not always as simple as it seems …
What readers are saying about Dante's Kiss