In  the process of conducting research for my debut novel, City of Sorrows, I traveled to Seville, congregated with a group of Christian Gypsies, and ended up living with a Spanish Gypsy pastor and his family.
I often wonder where this journey began. Or why I embarked on this particular odyssey. I think God always knew, even though He was not so good about sharing the details with me. And I, given the nature of my personality, didn't need to know. I'm a fiction writer. For more hours than I care to admit, I live in a fictional world. Anything is possible. Including going on a totally unexpected but incredible odyssey.
The word odyssey is often defined as an extended adventure, or as an intellectual or spiritual quest. Well, living with the Gypsies was certainly all of that.
The adventure began when I got serious about writing the novel which has become City of Sorrows. I knew that in order to do justice to the project, I had to travel back to Spain. I needed to meet and get to know the people whose culture I was writing about: Spanish Gypsies.
The only problem was, I knew that most of the Gypsies in Seville lived in poor, dangerous sectors of the city. My husband knew that too. As well as my pastor. The only way I was going to convince both my husband and my pastor that I would be safe in these marginalized areas was by connecting with a Christian church that had ministries in the Gypsy community.
Well, to make a long story short, I ended up in a Pentecostal Gypsy church called Dios Con Nosotros (God with Us), in one of the most sordid sectors of the city (Las Tres Mil Viviendas). And not once did I ever feel unsafe. The congregation embraced me, though kept me at a distance whenever I asked questions about their culture. Too many years of marginalization and oppression had made them wary of foreigners.
But as the weeks went by, and they started to trust me, my experiences began to change. I was invited into homes, into people's lives. Finally, I was asked to leave the apartment I had rented in Seville and invited to live with Pastor Pepe Serrano and his family in their home on the outskirts of Seville. Once I moved into Pastor Pepe's home, I no longer had to ask questions. I only had to live as part of a family to understand the people I was writing about.
Looking back now, I remember what Pastor Pepe said to me on the first day I entered his church: "God has not brought you here to research your book, He has brought you here to work on you."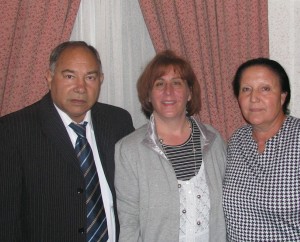 I guess God always knew the plans he had for me. There was a reason I was me.