WONDROUS WOMAN: SPANISH FOR CHILDBIRTH AND WOMEN'S HEALTH is an elegant gift boxed  Spanish/English phrase book and audio program written by the nationally-acclaimed speaker and author Susan Nadathur. The gift box includes a 246-page book with Spanish and English terminology, cultural awareness activities, and language learning strategies specific to childbirth and women's health. Six audio CDs for listening and pronunciation practice accompany the book. The program includes the following units:

Unit One: Prenatal Care, Obstetric Histories, The Physical Exam, Childbirth Education


Unit Two: Hospital Admissions, Labor and Delivery, Comfort Measures, Medications


Unit Three: Postpartum Mother/Infant Care and Breastfeeding


Unit Four: Neonatal Intensive Care and Hospital Discharge


Unit Five: Well Woman Care, Family Planning, Gynecology, Culture and Birth
Author Bio: Susan Nadathur is a registered nurse, childbirth educator, nationally-recognized Spanish language and diversity trainer, speaker and writer. She has a masters degree in Spanish and teaching certificates in English as a Second Language, Spanish Instruction, and Childbirth Education as well as over twenty years of experience working with Latino women in childbirth. Her programs have been presented at the American Academy of Nurse Midwives, AWHONN, The National Perinatal Association, Lamaze International, and hospitals throughout the country. Susan lives  with her family in Lajas, Puerto Rico where she works as a childbirth educator and writer. To contract Susan for a workshop or conference presentation in your area, please send an email to: susan.nadathur@gmail.com or call (888) 251-4562.
To order the WONDROUS WOMAN BOXED SET click on the link below.


WONDROUS WOMAN Boxed Language Program $124.95 + $12.95 shipping via USPS Priority Mail. Click on the Buy Now button. You'll be transferred to PayPal's safe, secure server for processing.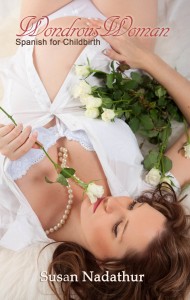 WONDROUS WOMAN, Book Only $34.95 + $4 shipping via USPS mail. Click on the Buy Now button. You'll be transferred to PayPal's safe, secure server for processing.

.